U.S. Army Veteran Deno Sandz, originally from Chicago, but is now residing in Ohio.  First and foremost he is an author, but recently began developing a budding music career with the release of "Halloween Verse."    The video is by Tribal Realities and features Deno.  Believing "horror and music has no boundaries," Deno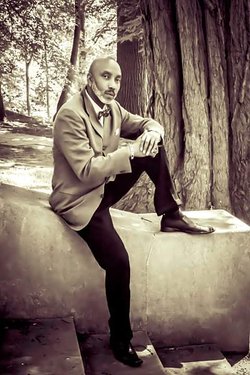 describes his approach as, "Dubstep music meets Horror fiction novelist.  It's the New Flow of Horror!"
With the excitement of his November horror novel release, "The House of Shangri-La" and Halloween approaching, Deno was inspired to create a different style of horror literature in the form of audio using his own voice in conjunction with his other talents.
It was when Italian music producer Marco Supramentale called Deno with a proposal to make "Halloween Verse," that the reality set in.  Deno explains, "I was honored that he recognized my talent as a horror novelist from Italy. I knew of his talent as a music producer in Italy. The excitement grew as I thought about his gift and my gift together creating something new to world of music and horror fiction. The rest is perfection."
As a horror novelist, Deno has over 10 books to his credit with many short stories published in the pages of magazines across the country.
Some of published works include: "Miss Mary Weather: A Southern Nightmare" (2000), "Pen of Iniquity" (2008), "I,AM: A Force of Relentless Evil" (2010), "Blood Plantation" (2011), "Cry Heaven Cry Hell…The Return of Miss Mary Weather(Sequel)"(2013), "Icabob Shaw" (2014), "The House of Shangri-La" (2014), "7even Dreams: A Dialogue with Evil" (2015), "Whorehouse on Penguin Creek" (2015), and has numerous unpublished novels in the works.  As one could easily imagine from the video, Demp also writes poetry/prose.
Music & Video: Tribal Realities
Vocals & Lyrics: Deno Sandz
Deno Sandz's horror novels are available on Amazon.